(09-25-2017, 09:42 AM)

NOLA Wrote:

(09-25-2017, 09:25 AM)

ChiefsChick23 Wrote:

(09-25-2017, 09:03 AM)

NOLA Wrote:

(09-13-2017, 09:28 AM)

NOLA Wrote: With Andy's team, it's "when I watch, we lose" which is uncanny given the team's record in that time period.

I skip a lot of games these days, y'all.  I do it for you.


Guys, I watched the whole game yesterday (well, okay, I left the bar after Hunt iced the game with less than two minutes to play), and we still won.  Curse lifted?


Well, it *was* our roughest game thus far.  So you probably had an effect.


I thought the Philly game was worse, right?  I mean, SD never had anything close to a lead, and I'm pretty sure they never punted 'cos Rivers just kept throwing us the ball.  It was kinda dull there in the second half, but I was never worried about them blowing it... I even said "not even the Chiefs can fuck this up" aloud and left when Hunt scored again...

and I never worried about the consequences

.

Feels good to watch a good team.
I didn't get to watch the SD game (stupid engagement photos) but I heard KC played worse than they did against Philly. I think that is what CC was saying.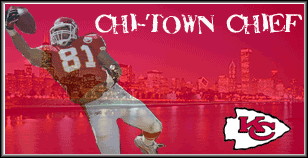 Check out my new fan page for daily updates
https://www.facebook.com/nathan.ryan.pierson