I think we all knew the moment that the Lions were able to force a tie against the Cardinals in week one that they'd be able to handily defeat the Chargers and the Eagles. Wait, what?
They tied in a game they had a 98.3% chance of winning with 8 minutes left against what most people are assuming will be a bad team, yet managed to win a couple games they shouldn't have.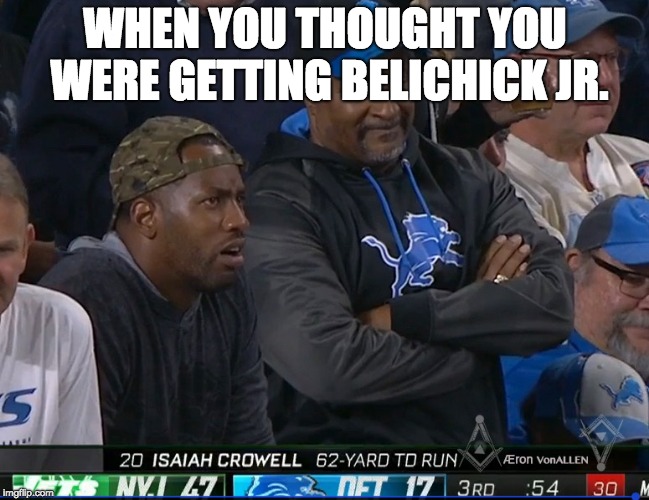 The Lions are a team steeped in mediocrity. They don't fail bad enough to get high draft picks, instead consistently going 6-10 to 9-7 and never win a damn playoff game. They exist to clarify obscure NFL rules and waste HOF talent at skill positions (Billy Sims, Barry Sanders, Calvin Johnson).
It is depressing to look at their team history. Matt Patricia took a 9-7 team and turned them into a 6-10 juggernaut. But they're still dangerous. This is the same team that somehow beat... actually manhandled, the Patriots last year (10-26).
Still, nobody is taking the Lions seriously, nor should they. Are they a decent team? Probably. But even if they weren't in a tough division, which they are, they don't have the look of a playoff team. But they beat two potential playoff teams, arguably the most overrated ones, but still impressive for them. They didn't win by overwhelming talent or disciplined football (5th most penalized team so far), they just kinda got lucky.
When it comes down to it, I just don't see how this will be competitive. A decent offense, sure, but a below average defense, there's just no reason to think they can keep up.
I could just point out Mahomes has 217 more passing yards than anyone else through 3 games, which is as many yards as several teams throw in a game on average including exactly the Raiders average so far, but I think we all get that. We became spoiled seemingly overnight.