2016 Season Primer
State of the Team
Before we decide what we should want we need to decide where do we stand and where do we want to go. However, I already had my first mock draft, showing I am a master at putting the cart before the horse. Still, I think the answer is clear. The Chiefs finally won a playoff game. They have not lost a lot from that team outside of CB Sean Smith, so the new goal is to make and win a Super Bowl.
So, what is it going to take to get them there? Let's look at what they have, first.
Chiefs Team Needs by position
Note: I am not putting absolutely every person that's on the roster. I'm missing a few of the JAGs (Just a Guy), not because a couple of them couldn't make the roster, but because I couldn't anticipate which ones would. Besides that, between the draft and undrafted free agency, more will be added.
OFFENSE
Quarterback
On the Roster: Alex Smith, Aaron Murray, Tyler Bray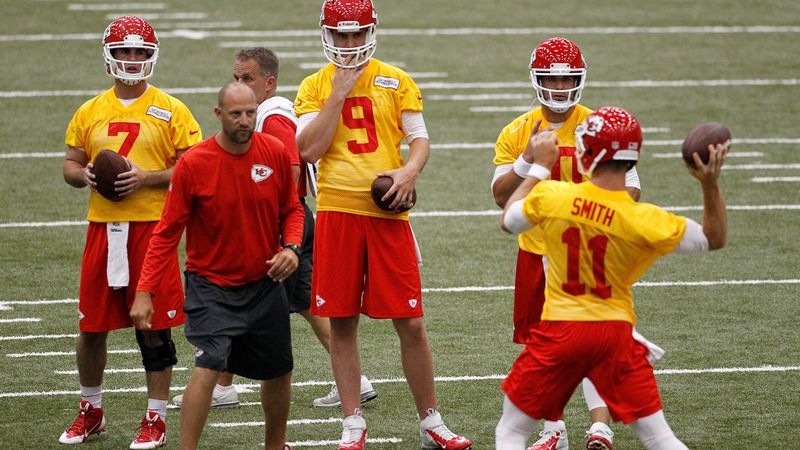 Alex Smith is a lot more popular guy than he was this time last year, but if we're being honest there wasn't much difference for him between the two seasons. He played slightly better, but the biggest difference between them wasn't him playing better or taking a few extra deep shots, it was elsewhere on the team. Smith may improve a little more again as his weapons and line improve, but for the most part we know what to expect. It's up to others to improve if we want to win a Super Bowl.
Aaron Murray and Tyler Bray have both had some time to learn the system here behind Smith and new Eagles QB Chase Daniel. Bray has ridiculous arm talent. If you ever watch him throw a football in person, it's easy to recognize. However, Murray was ridiculously more prolific in college. I hear plenty of people arguing between the two based solely on those two aspects. The truth is neither of them are proven at the NFL level. Bray may be nothing more than a less talented Jeff George. Murray might be a product of really good weapons as much as anything. This is going to be an interesting battle this preseason.
Runningback
On the Roster: Jamaal Charles, Anthony Sherman, Spencer Ware, Charcandrick West, Knile Davis, Darren Reaves
Some think JC is past his expiration date. I do not. I think even if he loses a step after all these years and injuries, he can still enjoy a great deal of success. Priest Holmes never had the speed and acceleration JC has, yet his combination of vision and balance led to 3 of the most prolific seasons ever by a Chiefs player. JC has vision and balance in spades.
Beyond that, the great play of West and especially Ware after JC's injury makes RB strong and deep to the point that many expect the Chiefs to at least try to trade Knile Davis. Davis isn't making enough money that the Chiefs couldn't afford to keep him if they can't find a trade partner. Sherman is still one of the best fullbacks in the game too. I guess that's not that amazing of a feat since half of the teams don't even have a true FB anymore, but he's still a great tool to have and probably a huge reason multiple guys had success running the ball for the Chiefs.
Wide Receiver
On the Roster: Jeremy Maclin, Chris Conley, Albert Wilson, Rod Streater, De'Anthony Thomas, Fred Williams, Frankie Hammond Jr., Kenny Cook, Da'Ron Brown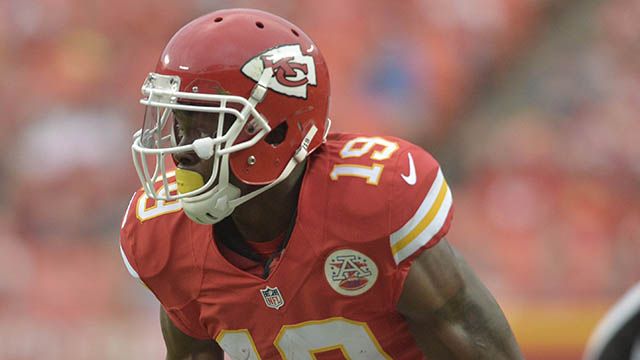 Adding Maclin was one of the best free agency moves the Chiefs made in recent years, but no one behind him is truly proven. Conley saw the field a decent amount yet didn't really see that many targets. Conley could take a major leap forward, but he didn't even really see an uptick in production as the year went on, so it shouldn't be counted on. I like Wilson, but we may have to admit in terms of production he's been a JAG. He ended up with 35 catches, 451 yards, and 2 TDs despite seeing the field a lot. I think he needs to show us a lot more. Streater in comparison had a 66 catch, 888 yard, and 4 TD year his last healthy year (2013) with the Raiders. Streater is my dark horse candidate to be the starter opposite of Maclin.
DAT will likely be a gadget player used mostly for screens and situationally, but even though I didn't buy some of the wild speculation about him, his situation is weird. I don't know what to expect out of him. I wouldn't count on any of the others to make a meaningful impact this year, but that 5th and/or 6th WR spot will be a very interesting camp battle.
Tight End
On the Roster: Travis Kelce, Demetrius Harris, Brian Parker, James O'Shaughnessy
Kelce has the potential to be elite and has almost realized that potential. Harris has not met his potential yet, but the team signed him to a 3 year extension. He definitely has an opportunity to prove himself, though I think they may be giving him too long of a leash considering his overall lack of production. Parker is an excellent blocker with the potential to be a decent receiver. They were really happy to steal him from the Chargers when they tried to stuff him away on the practice squad last year. Shaggy is a balanced prospect that could be a very good starter, though likely never a star.
I could not think of a scenario where the Chiefs invest anything valuable to add another TE. I could see this young group absolutely explode or they could be run of the mill, but this group will likely all be on the opening day roster if healthy.
Offensive Line
On the Roster: Eric Fisher, Zach Fulton, Mitch Morse, Jah Reid, Mitchell Schwartz, Laurent Duvernay-Tardif, Jarrod Pughsley, Daniel Munyer, Paul Fanaika
I don't think Fisher is as bad as his detractors say, but he's still a longshot from what you want out of a #1 overall pick. Damn our luck. Schwartz is a fantastic addition, especially to slow down the pass rush of the Broncos and Raiders in the division. Fulton seemed okay. Morse had a pretty solid rookie season. Reid added the type of depth we thought we'd get from Fanaika last year, because we limited his role on the line to things he was good at (zone blocking, etc.), something good coaches do. Fanaika might be cut because the Chiefs need to make some cap room to sign all of their draft picks. LDT and Pughsley are JAGs at this point, but have the potential to be more. I wouldn't be surprised if they crack the starting lineup or get cut altogether by the regular season.
Despite losing Jeff Allen, Ben Grubbs, and Donald Stephenson, the addition of Mitch Schwartz makes this a better starting line, but our depth is poor again. The Chiefs might look fairly early in the draft for another interior lineman at least for depth. They may also look for a swing tackle. If they didn't add anyone that was an upgrade, I'd predict the starting line to be from left to right Fisher, Fulton, Morse, Reid, Schwartz.
DEFENSE
Defensive Line
On the Roster: Dontari Poe, Jaye Howard, Allen Bailey, Nick Williams, Rakeem Nunez-Roches
The Chiefs have a number of JAGs for additional depth on the line, so while I feel like the front three are great and possibly one of the best starting lines in the league, this is a grossly thin group with the retirement of DeVito. Poe is a rare playmaking NT. Howard not only plays great as a run-stuffing DE, he can play NT in a pinch. Bailey is starting to become an unheralded star. The Chiefs could really use at least one guy that's good enough to be in the rotation (possibly Williams and/or Nunez-Roches) and need to get some more competition for depth. Maybe they like Williams more than I do or Nunez-Roches develops in his second season, but I suspect they consider DE depth a pressing need.
Linebacker
On the Roster: Derrick Johnson, Tamba Hali, Justin Houston, Josh Mauga, Dee Ford, Ramik Wilson, DJ Alexander, Justin March, Frank Zombo, Jonathan Massaqoi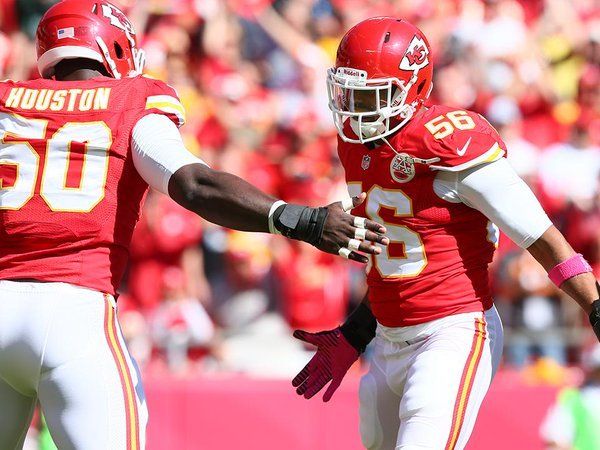 I think the Chiefs are stellar here. The starters include 3 perennial pro-bowlers, even if two of them have been around since the Herm Edwards era. However, with Houston recovering from his surgery, their depth will be tested early. It is vital to the team that Dee Ford plays well. He showed flashes last year, but if it's an extended period of time he needs to show consistency as well. Massaquoi was a pretty solid college player that just hasn't developed at the pros yet, but this may be just the change of scenery (coaching, really) that he needs.
Mauga looked much more comfortable playing the strong inside backer while DJ played the weak side than he did the year before with DJ out. It also helps that he didn't need to be in on as many passing downs, though his coverage improved too. Wilson played very well in his time too, though, so there may be a real battle for the second ILB spot. Zombo and Alexander provide depth and special teams play. It's clear Zombo is a JAG, but DJA still has intriguing speed. March currently enjoys folk hero status on some forums as the likely successor to DJ, but I'm not going to get too excited until how I see him perform with the lights on, especially since he's an UDFA that missed his rookie campaign due to injury.
Overall, the Chiefs could stand pat and not draft anyone. They could use some depth, but it may be difficult to justify drafting anyone too early unless they're going to be a long term answer or just too good of a value to pass up.
Defensive Back
On the Roster: Eric Berry, Ron Parker, Marcus Peters, Philip Gaines, Daniel Sorenson, Steven Nelson, Marcus Cooper, Jamell Fleming, Jimmy Wilson


Despite losing Sean Smith to free agency and Husain Abdullah to retirement, this is actually still a very good and even fairly deep group. Berry and Peters are potential All-Pros. Ron Parker is kind of forgotten in the mix, but is vital in part because of the versatility he provides. Gaines returning from injury really helps fill the loss of Smith, more than most realize. Sorenson has mostly been a special teams ace, but has been relatively under appreciated as a good spot starter and rotational player in the defensive backfield. Cooper and Fleming are much maligned, but I wouldn't put it past either of them to re-invent themselves. I believe they said Fleming was going to try to move to safety. Jimmy Wilson has played both some nickel and safety for the Chargers, so his depth is useful
This group as it is could be go enough to go to war with, but I still think CB/S is the biggest need on the team. I expect the Chiefs to add a safety or CB early, if not both. They just could really use a 4th or 5th piece to improve their total situation and depth. They use too many safeties to not need another and I don't want them to rely on Peters and Gaines staying healthy to have competent outside CBs. If they for some reason don't add another CB, the success (or failure) of the season may be on the shoulders of a guy like Nelson stepping up.
Special Teams
Who cares… maybe try to get a better long snapper? Colquitt is elite and Santos seems more or less legit. The Chiefs may need another returner if they get rid of Knile Davis.
Needs Analysis
On offense the Chiefs need more o-line depth at least, particularly on the interior or a swing tackle. Jah Reid probably is their plan for a swing tackle right now, so adding interior depth might be their plan to help both inside and out. WR is more of a want than a need. The Chiefs have 3 guys that could potentially blossom into a strong starting option, but none of them are really reliable at the moment. Other than that, they seem pretty set at RB and TE. Drafting another potential QBotF would be nice, but I think they want to see what they have in Murray and Bray. Not having a veteran backup could be a colossal mistake.
On defense the Chiefs need more depth on the d-line, but don't necessarily need a starting caliber player. If they were going to try and nab an instant starter on defense, it'd be somewhere in the defensive backfield. The Chiefs use a 3rd safety often enough either covering the slot or as a pseudo-LB that adding a safety effectively helps CB depth, but they could use another guy that can cover on the outside. LB they clearly have the starters they want, it's just a question of if they want more depth or see someone they want for the future.
Chiefs Needs In Order of Importance
CB, S, OG, DE, WR, ILB, OT, OLB, QB, KR
Summary
The Chiefs are not likely to add anyone for more than the vet minimum at this point and might even need to cut a couple players come June 1. The Draft is the only way they're going to realistically add anything important. They need to fill needs. I'm normally all about drafting the best player available or at least the BPA at a position of need, but the Chiefs might need to do some reaching to make sure they have the overall roster they need this season. Injuries would be the number one thing that could derail this season, and that's even after you consider how much better the depth is than it was when Reid and Dorsey got here.