---
Comic Book TV Shows and Movies - All The Things! - HG - 12-27-2011

Live Action

1944

Captain America

Republic Pictures Serial; Marvel was then known as Timely Comics
1986

Howard the Duck

Universal Pictures
1989

The Punisher

New World Pictures
1990

Captain America

21st Century Film Corporation Direct-to-video
1994

The Fantastic Four

New Horizons Unreleased
1998

Blade

New Line Cinema
2000

X-Men

20th Century Fox
2002

Blade II

New Line Cinema
2002

Spider-Man

Columbia Pictures
2003

Daredevil

20th Century Fox / Regency Enterprises 2003

X2

20th Century Fox
2003

Hulk

Universal Pictures
2004

The Punisher

Artisan Entertainment Distributed by Lionsgate in the U.S. and Columbia Pictures internationally


2004 Spider-Man 2

Columbia Pictures


2004 Blade: Trinity

New Line Cinema
2005

Elektra

20th Century Fox / Regency Enterprises
2005

Man-Thing

Lions Gate Entertainment / Artisan TV movie; released as a feature outside the U.S.


2005 Fantastic Four

20th Century Fox / Marvel Studios
2006

X-Men: The Last Stand

20th Century Fox
2007

Ghost Rider

Columbia Pictures


2007 Spider-Man 3

Columbia Pictures


2007 Fantastic Four: Rise of the Silver Surfer

20th Century Fox
2008

Iron Man

Marvel Studios Distributed by Paramount Pictures


2008 The Incredible Hulk

Marvel Studios Distributed by Universal Pictures
2008

Punisher: War Zone

Lionsgate Entertainment Distributed by Columbia Pictures outside the U.S.
2009

X-Men Origins: Wolverine

20th Century Fox
2010

Iron Man 2

Marvel Studios Distributed by Paramount Pictures
2011

Thor

Marvel Studios Distributed by Paramount Pictures


2011 X-Men: First Class

20th Century Fox
2011

Captain America: The First Avenger

Marvel Studios Distributed by Paramount Pictures Forthcoming
2012

Ghost Rider: Spirit of Vengeance

Columbia Pictures Post-Production


2012 The Avengers

Marvel Studios Post-production
2012

The Amazing Spider-Man

Columbia Pictures Post-production[sup]

[3]

[/sup]
2013

Iron Man 3

Marvel Studios In development[sup]

[4]

[/sup]


2013 Thor 2

Marvel Studios In development
2014

The Amazing Spider-Man 2

Columbia Pictures In development[sup]

[6]

[/sup]

Animated Films
2006

Ultimate Avengers




2006 Ultimate Avengers 2


2007

The Invincible Iron Man




2007 Doctor Strange: The Sorcerer Supreme


2008

Next Avengers: Heroes of Tomorrow


2009

Hulk Vs


2010

Planet Hulk


2011

Thor: Tales of Asgard



Television Movies

1978

Dr. Strange

Universal Television Pilot episode for an unproduced TV series
1979

Captain America

Pilot episodes for unproduced TV series


1979 Captain America II: Death Too Soon


1988

The Incredible Hulk Returns

New World Television / Bixby-Brandon Productions Revival attempts of the

The Incredible Hulk

TV series
1989

The Trial of the Incredible Hulk


1990

The Death of the Incredible Hulk

1991

Power Pack

New World Television Pilot episode for an unproduced TV series
1996

Generation X

Pilot episode for an unproduced TV series
1998

Nick Fury: Agent of S.H.I.E.L.D.

20th Century Fox Television Pilot episode for an unproduced TV series
2006

Blade: House of Chthon

New Line Television / Marvel Entertainment Pilot episode for the

Blade

TV series


---
Comic Book TV Shows and Movies - All The Things! - warthog - 11-15-2013

If Pixar and Marvel ever got together

http://thechive.com/2013/11/14/dc-and-marvel-characters-get-a-pixar-makeover-50-photos/


---
Comic Book TV Shows and Movies - All The Things! - HG - 12-28-2013

Hey just for some fun.

[media=youtube]L6dj7YCEKhw[/media]

[media=youtube]BbizTBYs-rQ[/media]

[media=youtube]CDBNB2hk5t0[/media]

[media=youtube]nvoWwY64S5w[/media]


---
Comic Book TV Shows and Movies - All The Things! - NOLA - 12-28-2013


HG, post: 164152, member: 5 Wrote:Hey just for some fun.
Did you see this?

http://www.homeofthechiefs.com/forums/threads/truth-in-journalism.8468/


---
Comic Book TV Shows and Movies - All The Things! - Walker Boh - 12-30-2013

Superman won last I read: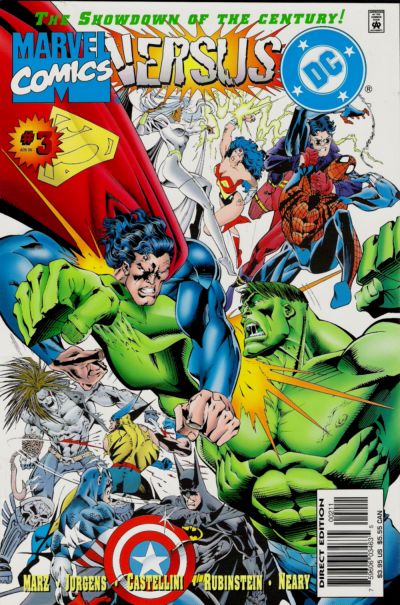 ---
Comic Book TV Shows and Movies - All The Things! - HG - 12-30-2013

I have mixed emotions on this one

http://screenrant.com/x-men-vs-fantastic-four-movie-x4-story/

In 2013 Fox made significant strides toward launching its own superhero movie universe. There was the solid performance of

The Wolverine

, which set up big reveals about the plot and cast of the upcoming

X-Men: Days of Future Past

; we also learned that a follow-up film,

X-Men: Apocalypse

will be coming in 2016 and will feature the iconic titular villain, with more Wolverine films and an X-Force movie also helping to expand the X-Movie universe.

But mutants aren't all we're getting: the past year also brought further developments with the

Fantastic Four

reboot being helmed by

Chronicle

director Josh Trank, reminding us that Fox is weaving something together that could eventually bring the X-Men and Fantastic Four together in one film. And now, new word is circulating about such a team-up film.

Bleeding Cool pointed us to a report from The Motley Fool, in which the investment site laid out the following claim as part of its report on studios other than Disney that will soon benefit from the Marvel brand:

Fox owns the rights to the Fantastic Four and the X-Men characters, who are among the most well-known comic book heroes of all time. After multiple movies in their respective franchises, Fox has now decided to combine the Fantastic Four and the X-Men for an "Avengers"-style movie that could pay off huge for shareholders.

Based on a 1987 four issue comic called Fantastic Four vs. X-Men, the movie will see the characters against each other because of secrets regarding the Fantastic Four's origin.

Now this isn't really all that big of a revelation; for months now there has been heavy speculation (even expectation) that a X4 movie (X-Men + Fantastic Four) could happen. Fox's Marvel universe shepherd, Mark Millar, initially made claims that characters from the respective teams could show up in the other team's movies, beforeback-peddling on the idea of a direct X4 movie crossover. So for now, the official focus seems to be on building these respective franchises in viable brands.

However, any serious fan can tell you that at this point a crossover is a no-brainer: the new game in the superhero movie genre is to build a franchise universe, and that's the level of entertainment that fans have come to expect. With only these two Marvel properties in development, Fox has limited options for team-up films.

X4

would make sense – but only if both brands are established enough to warrant it

At the moment the X-Men films are going bigger and bolder with attempts to introduce things like time travel (possibly multiple timelines) and more fantastical villains likeThe Sentinels and Apocalypse. Meanwhile, casting rumors for the

Fantastic Four

have the fan community raising a collective eyebrow, with young up-and-comers like Miles Teller (

21 & Over

), Allison Williams (

Girls

) and Michael B. Jordan (

Fruitvale Station)

rumored for the principal roles of Reed Richards, Sue Storm and Johnny Storm, respectively. Needless to say, these rumors have not been met with universal acclaim.

With so many risks on the table, team-up talk is premature at this point. Unless

both

franchises are successful in their second-act relaunches, a team-up won't ever be necessary. Writer Simon Kinberg is currently working to manage both franchises, so tracks may indeed get laid for the future – but only the box office returns will determine if it's a future that comes to fruition.


---
Comic Book TV Shows and Movies - All The Things! - HG - 01-16-2014

You can read it . but I recommend going to the link. (It has pictures)

http://screenrant.com/marvel-vs-dc-movies-casts-casting-rumors-2014/

It's been something of a surprising year on the comic book movie front. Back at this time in 2013 none of us could have predicted that Batman and Superman would have a summer movie to rival Marvel's Avengers 2 in 2015, or that

Avengers 2

would be all about a killer robot named Ultron, let alone big-twist casting announcements likeBen Affleck as the new Batman and James Spader playing said killer robot.

Indeed, "casting" has been the main theme of the last 365 days in superhero movie news, with both Marvel Studios and DC Entertainment taking some big risks on unconventional actor picks to help catapult some obscure and/or big risk films to box office success. From Bradley Cooper and Vin Diesel voicing a warrior raccoon and tree alien in Guardians of the Galaxy (respectively), to the controversy of BatAffleck andGal Gadot as Wonder Woman – to the more recent news of Paul Rudd splitting Ant-Man duties with Michael Douglas… We're asking: Which studio is taking the wilder casting risks right now?

Ground Rules
There's a poll on the last page if you just want to get your vote on and start arguing in the comments. Otherwise, we'll discuss the films individually in order of release date, according to

These Rules

:


We are only discussing the big 2 (DCE and Marvel Studios). If we had to get into crazy casting decisions that third-party studios like Sony (Spider-Man) or Fox (X-Men) make, this whole discussion would go off the rails.

We are only discussing CONFIRMED casting announcements. Again, if we opened the door to all the rumors, it'd be a doorway to madness.

We are only discussing CONFIRMED movies. We'll try to update if anything new breaks – but for now,

Justice League

is off the table.

Captain America - The Winter Soldier


Release date: April 4, 2014





NEW ADDITIONS

: Robert Redford, Anthony Mackie, Frank Grillo, Emily VanCamp



RISK ASSESSMENT

:

Captain America 2

is on pretty solid ground. For this political-thriller superhero sequel, Marvel added an additional splash of color to their universe (Mackie), added some recent standout character actors in supporting roles (Grillo from

The Grey,

and VanCamp from ABC's

Revenge

), as well as a heavyweight icon (Redford). Pretty smart.

With Chris Evans, ScarJo and Sam Jackson also coming back to add their star power to the mix, the

Winter Soldier

cast is poised to lure in any and all demographics on the chart.



OVERALL RISK

:

Low

– This is the one superhero film where nobody's really complaining about casting. That's a milestone of some kind.

Guardians of the Galaxy


Release Date: August 1, 2014





[B]NEW ADDITIONS

:[/B] Bradley Cooper (Voice), Vin Diesel (Voice/mo-cap), Chris Pratt, Zoe Saldana, Dave Bautista, Benicio Del Toro, Michael Rooker, Djimon Hounsou, Glenn Close, John C. Reilly, Karen Gillan, Lee Pace.



RISK ASSESSMENT

: So, your mission is to launch one of your more obscure and strange comic book titles as a massive "Avengers in Space" franchise with multimedia aspirations. How do you do it? Why, by shelling out the dough for a massive cast!

See, you take a mix of serious upcoming talent (Pratt, Saldana, Gillan, Pace); anchor them with some prestige-level veteran talent (Close, Del Toro) and reliable character actors (Reilly, Rooker); and for good measure, you get some A-list stars in the group (Diesel, Cooper), in order to attract mainstream attention to your weird movie.

Hey, we've seen worse plans, and like

Captain America 2

,

Guardians of the Galaxy

has stacked the deck as best one can in the casting department. Picking Pratt (

Parks and Rec

,

Zero Dark Thirty

) could turn out to be a stroke of genius, and when word hits the mainstream about Bradley Cooper voicing a space raccoon with guns,

Guardians

is going to get some serious hard looks from the average viewer. Best take advantage.



OVERALL RISK

:

Moderate

– We have no idea if director James Gunn was able to make his cast gel, if some of them (Bautista) are even up to the task – not to mention, what they all look like all dressed up in funky future/alien garb.

The Avengers Age of Ultron


Release Date: May 1, 2015





[B][B]NEW ADDITIONS

[/B]:[/B] Aaron Taylor-Johnson, Elizabeth Olsen, Thomas Kretschmann, James Spader



RISK ASSESSMENT

: So far,

Avengers 2

has taken a "smarter, not bigger," approach to casting. Taylor-Johnson (

Kick-Ass

) and Elizabeth Olsen (

Oldboy

) are fast-rising cinephile favorites, and they're both about to get a major mainstream boost this year, thanks to playing the leads in

Godzilla

. Adding them to the Avengers roster as Quicksilver and Scarlet Witch couldn't come at a better time.

On the villain front, Kretschmann (

Wanted

,

King Kong

) is a very reliable German character actor an iconic German villain (Baron von Strucker, that's a no-brainer); meanwhile, James Spader made the jump back to network TV with The Blacklist and has already netted himself a Golden Globe nomination for playing that show's anti-hero/villain. There's just no substitute for good Spader – which is why we're so excited to see him as a killer robot.

All in all, the new

Avengers 2

casting additions inspire a lot of confidence.



OVERALL RISK

:

Low

- You could bet on any one of the new additions and it'd be a solid bet. Together, they're aces.


---
Comic Book TV Shows and Movies - All The Things! - HG - 01-16-2014

Part 2

Batman VS Superman


Release Date: July 17, 2015





[B]NEW [B][B][B]ADDITIONS

[/B][/B][/B]:[/B] Ben Affleck, Gal Gadot, More TBA



RISK ASSESSMENT

: Despite a list of actors stilled rumored for parts, the only official new additions recruited for

Batman vs. Superman

are Ben Affleck as Batmanand Gal Gadot as Wonder Woman. But boy, have those two casting announcements made an impact, as the future of DC and Warner Bros.' movie universe hangs in the balance…

Fanboys always watch each comic book movie casting announcement like it's a major headline, but it's rare when comic book movie casting DOES make major headline news – and casting an Oscar-winning writer/director/all-around star like Ben Affleck as Batman did just that. People might still currently know Gal Gadot as "that

Fast & Furious

chick," but the news that Wonder Woman is coming to a movie screen soon has been its own headline-grabber.

Right now though, this all has a big asterisk hanging over it: There are villains yet to be cast (Lex Luthor, possibly Doomsday), and we know additional stars (like Dwayne "The Rock" Johnson) are currently being courted for the DC Movie Universe – but where and when they'll officially show up remains to be seen. This section could be getting some significant updates in the near future.



OVERALL RISK

:

High

- Even with just two significant pieces of casting, DC Entertainment is betting a lot of chips in a high stakes game that could begin showing cracks from the moment we finally get a look at Batman's new costume or Wonder Woman's supposed battle armor. And if it goes wrong, it's likely that it'll all go wrong for the studio's

Justice League

plans. No pressure.

Ant-Man


Release Date: July 31, 2015





[B]NEW [B][B][B]ADDITIONS

[/B][/B][/B]:[/B] Paul Rudd, Michael Douglas, More TBA



RISK ASSESSMENT

:

Ant-Man

has the challenge of stepping into the wake of

Avengers 2

and kick-ing off Marvel Phase 3 in an exciting way – quite a colossal task for a diminutive hero. In order to sell the public (beyond fanboy circles) Marvel has unveiled an ambitious casting plan: Place signature charm-guy Paul Rudd (

This Is 40

) in the central role with supporting gravitas from none other than Michael Douglas.

Like with

Guardians of the Galaxy

, the approach seems to be mixing veteran prestige talent (Douglas) with charming up-and-coming talent (Rudd), in order to rally fans behind a lead they can like, while piquing mainstream interest in the obscure (and dangerously close to silly) superhero film via the involvement of an acting heavyweight. The only problem with that plan is the story that director Edgar Wright seems to be telling.

With Douglas playing fan-favorite veteran Avenger Hank Pym, and Rudd playing Scott Lang, a later incarnation of the character, the implication seems to be that

Ant-Man

will be taking a very different approach to the source material. Right now, not even Marvel fans are secure in the studio's departures from canon – if

Iron Man 3

is any indication.



OVERALL RISK

:

High

- Ant-Man is a HARD sell to the average viewer, and making significant changes to the character and his lore means that not even hardcore fans are going to necessarily be behind this project. That's a lot of pressure left on writer/director Edgar Wright to really warm audiences over with his creatively fun film making prowess.

Conclusion - Biggest Risk
While Marvel is banking on new talent and solid veteran actors to help sell their more obscure or hard-sell properties, DC is literally betting the farm on some casting choices that only seem to split their fanbase down the middle with each and every announcement.

People far and wide will surely flock to see the new Batman and the first movie incarnation of Wonder Woman (among other highlights of

Batman vs. Superman

) – but the moment they decide they don't like either or both actors in those iconic roles, the Justice League movie battle goes from uphill to mountainous climb.

So while this can all indeed change in the blink of one great piece of casting news (will it be Bryan Cranston for Lex Luthor? Or additional characters filling out

Ant-Man

? Or how about the BIG rumors about which stars – Johnny Depp, Joaquin Phoenix – could be joining these universes?) at the current moment we're forced to say:


---
Comic Book TV Shows and Movies - All The Things! - The_Jonas - 01-17-2014

So quicksilver and Scarlet Witch are going to be in the Avengers and the new X-men movie (DoFP)


---
Comic Book TV Shows and Movies - All The Things! - Chi-town_Chief - 01-17-2014


The_Jonas, post: 165201, member: 33 Wrote:So quicksilver and Scarlet Witch are going to be in the Avengers and the new X-men movie (DoFP)

Yeah. The agreement is that in the Avengers they can't say that they are mutants, and in Xmen they can't mention that they are part of the avengers.


---